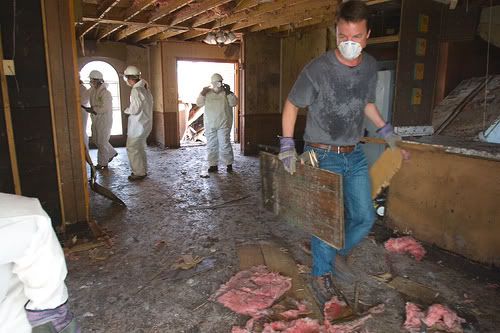 Now here's a reason why Democrats who are true to their liberal principles are putting their
money on Edwards
. Unlike the other candidates running for the party's nomination, he refuses to measure himself against the Republican standard and focus on everything except what happens inside our own borders to actual Americans. For instance, the devastation that still is New Orleans, two years after Katrina. Which is why he understood why it was so right to support
the bid by the city of New Orleans
to host one of the Presidential debates next year. After all, what other city so exemplifies the debate over the mission and value of the federal government except New Orleans?
As John Edwards points out though,
corporate interests have literally taken over this government
, and our political process as well. Not that Edwards needed the Presidential debate to make Katrina a
priority for him
:
"It saddens me to hear that the Commission on Presidential Debates rejected New Orleans' bid to host a debate in 2008 citing evidence that the city has not recovered enough to host the event. I strongly believe this decision was a mistake and I urge the Commission on Presidential Debates to rethink their decision.

"As a nation, all of us have a responsibility to do everything we can to help rebuild this great city, and holding national events in this city, like a presidential debate, will help New Orleans move forward. I have made rebuilding this city a central part of my presidential campaign because I believe we cannot stand on the sidelines as President Bush continues to fail the people of New Orleans.

"The truth is America is not the country of the Superdome in New Orleans after Katrina. We can prove it by fulfilling our moral responsibility to get New Orleans back on its feet. At a minimum, when I am the Democratic nominee, I will push to make sure we hold a presidential debate in New Orleans. And, as president, I will make sure that our government does everything in its power to help restore the city."

Democrats are making a mistake if they think
Katrina's not a big issue.
A number of NOLA bloggers are incensed about this turn of events and rightfully so. If New Orleans is good enough for the Society of Exploration Geophysicists annual meeting, various large medical conferences and can host thousands upon thousands during Carnival season, why not one measly presidential debate? If a debate is not held in the nexus of our unraveling as a nation, the cynosure of the descent, the lens that focuses the knowledge that our government doesn't have a stitch on, where else?
But then, maybe the mainstream media would have to publish stories like
this?
In late October, the U.S. government, through HUD, gave the go ahead to demolish four of the largest public housing projects in New Orleans. On November 15, a federal judge refused to block the demolitions – clearing the way for the demolition of the BW Cooper, CJ Peete, Lafitte and St Bernard developments.

These projects aren't just structures. These were people's communities — where 1000's of people grew up, met, fell in love and raised families. These buildings suffered less damage than other housing in the floods because of their solid brick construction and could house 4,700 families. But the government plans to demolish them and build "mixed income" housing that will include less than 750 units for people with low incomes.

Much of the Black population of this city has been dispersed throughout the country since Katrina. By March of 2007, it was estimated that 200,000 former residents had still not returned to New Orleans and that more than 150,000 of them are Black. The demolition of public housing is yet another way the government is discouraging and preventing people from coming back to New Orleans. In effect the message is: "You'll never be able to come back home because there will be nowhere you can live."

The number of homeless people in New Orleans is double what it was before Katrina. Lafitte, which could house almost 900 families but is now almost empty, sits across the street from a homeless encampment where dozens of people live under a freeway overpass.

New Orleans desperately needs affordable housing. Yet the authorities are determined to destroy 1000's of housing units that could be made suitable for people to live in. Where's the logic in this?

To anyone concerned about the needs of the people, this is insane. But the people who run this system operate based on a cold capitalist logic. For them what matters is keeping their system in effect and as lean and mean a profit-making machine as possible. To do this, they will demolish public housing, no matter how this impacts people's lives. For this system, a disaster that killed 1,800 people and forced 200,000 out of the city is an opportunity to rebuild a New Orleans that's smaller and whiter and rid of those who the system has no need for.